A manic Monday
Posted: 20-05-2013, 21:33 by Dave
Today started out not as I had planned, slight sleep in getting up at 7.15am which was good but I just couldnt warm up, it felt like -10 degrees. I went downstairs ate some breakfast and had a coffee (every day is made better with coffee).
Still feeling cold I opted to do some other things first, which meant a quick trip to Pennant Hills to pick up some beads, Iíve never been there but it was recommended by Paul the Yank from the fishing club, so who am I to argue!?!
Paul the Yank delivered, got the beads I wanted! Who would have thought such a shop existed!
On the way home I was feeling a little peckish, stopped off at my fave cafe (Cafe Ventura at Northmead), had another coffee and a bacon and egg roll. This warmed things up pretty quickly.
Got home, pumped the tyres on the bike, filled the water bottles and took off for a ride.

Strong headwinds (Iíll blame this rather than my bad diet and lack of training over the last few weeks) made this difficult and as per usual I get slipstreamed by another cyclist for a few kís, then when I am spent decides to overtake and make a passing comment. This seems to be typical of society these days. Just under 26k into the ride I pull over, have a drink and take the oportunity to take a few photos of the bike...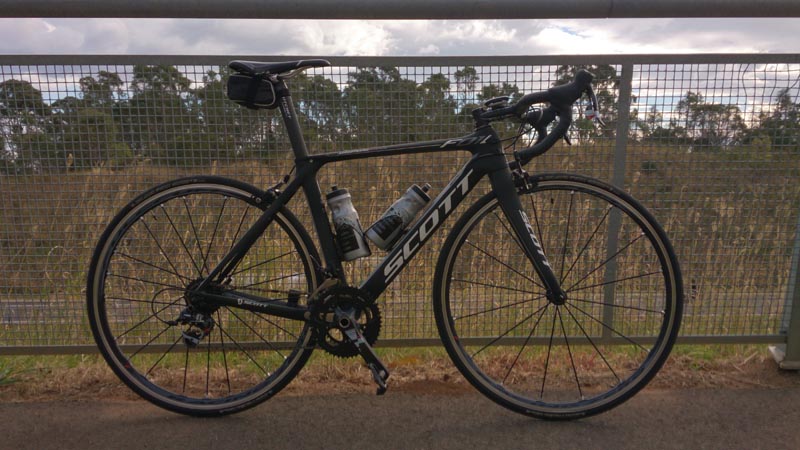 About 20 seconds after the above photo a big gust of wind blows the bike over, the pain I felt was akin to losing a loved one, watching my black baby bounce - shattered! I yelled a large number of obscenities and decided to inspect - small scratch on the right hand brake level, needs new bar tape, scratch on the right pedal and rear derailleur is scratched - I yell some more obscenities. All that suffering up that last hill into that howling headwind for this!

Riding back the rear derailleur displayed what I hoped it wouldnít, I tried pulling it back a little which has resolved the noise somewhat - so it looks like another trip back to the Green Grocer.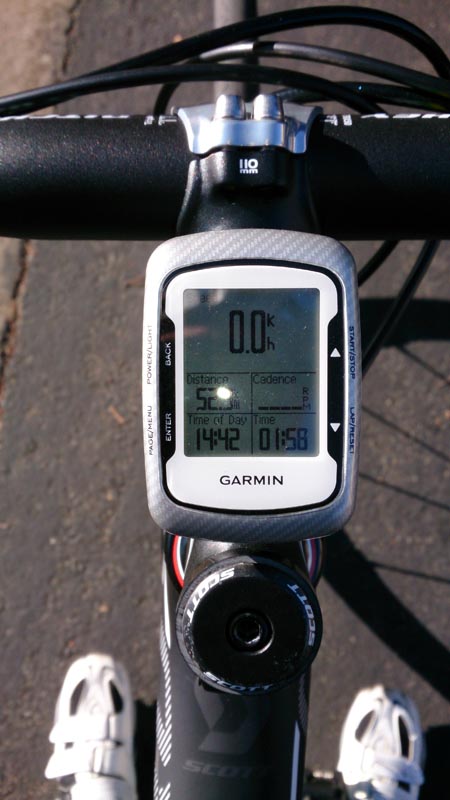 So my day gets even worse a few moments after the above photo. I get a phone call from my bank telling me they have put a hold on my credit card, the reason is someone has skimmed the card! Now I have to wait 5 business days for a new card to be issued - love it, I really do...
And here I sit tonight, with 52.9k under my belt, meanwhile the razor blades in my throat are getting worse, today just hasnt been my day!