First fly fishing session of the new season
Posted: 10-11-2013, 19:38 by Dave
The trip had been planned well in advance and we were all looking forward to it, for me it was the first chance of any fishing in the new season (its the first time I've missed fishing on opening weekend). We were blessed with amazing weather, the Thredbo River was flowing a treat.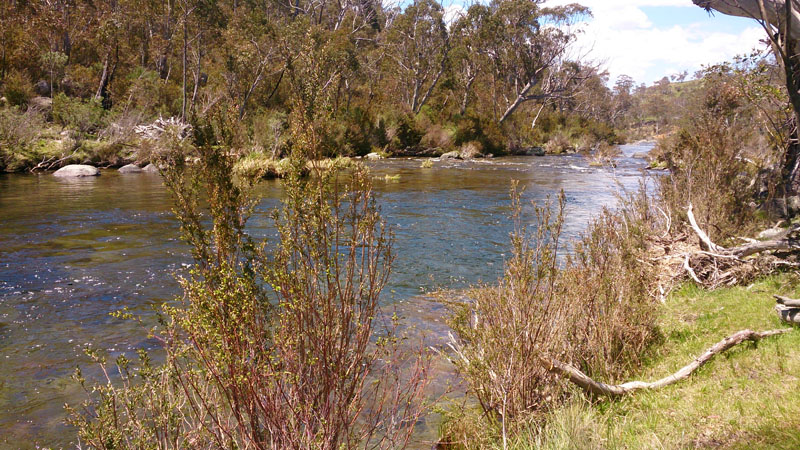 We spent a lot of time exploring old haunts and some new ones to, the fishing was tough, in particular for myself without managing a single fish, Rory and Dave (not this Dave) managed a fish each - I picked the wrong day to "not" bush bash it, opting to go downstream; upstream was certainly the place to go...

To say the Snowy Mountain streams are devoid of fish is certainly not true, we did spy a few, but it's certainly not the area of abundant fish as once was.

We spent a lot of time discussing the reasons for so little fish in the river systems; cormorants, overfishing, poor catch and release rates...?
Chatting to the guys at Highcountry Outfitters the theories revolved around cormorants and the floods washing away the weed beds and food system, therefore no fish wanting to stay in the system post spawning.

We fished the Swampy Plains River for no luck, such perfect cool water flowing and lots of bugs hatching; still no fish caught or any rises seen, it was really hard to take in!
There was even a crack at a very, very low Guthega Pondage - we just missed the release with the Snowy River downstream flowing hard.
It was great to get away from the weekly rat race, even blanking out I can handle; but seeing the Snowy Mountains River systems in such great condition with so few fish was hard to take. I'm sure like most things, it will all come good in time, lets keep the fingers crossed.