Closing weekend fishing
Posted: 11-06-2013, 21:55 by Dave
June long weekend in NSW signifies the close of fishing for trout in streams. Its been quite some time since I've fished Oberon, October long weekend 2010 to be precise. You can only imagine the excitement when dates and destinations were confirmed.
Being a member of the Sydney Fly Rodders club has its advantages, only open to club members is accommodation just outside Oberon at a very reasonable price. I don't work Fridays so I got real jumpy waiting for Rory to arrive after he finished work, and after a long drive in peak hour traffic (and a detour to find dinner at the late hour) we finally arrived at the destination, unpacked and went to bed to be greeted with a misty yet gorgeous morning...
We had some breakfast, hit the Fish River and walked, then walked a little more and then even further. We all know you've got to tread where not many will tread, its the unsung fishing law that you've just got to walk that little bit further. Well, not today, just as we thought we'd gone far enough right there in front of our eye's was another angler fishing! Luckily he'd been fishing downstream, yep you heard right - downstream.
Not having fished the Fish for so long it was interesting to note the many changes that nature makes to places you remember, log jam caused by flooding and blackberries being the most notable. Regardless, the river was flowing a little fast and slightly dirty, not all that great for fishing but I wasn't going to let that spoil anything.

The fishing was tough, then again its not often otherwise in Central West NSW, I fished the above section pretty thoroughly, couple of weighted droppers below an indicator bouncing along the bottom exploring all the usual lies.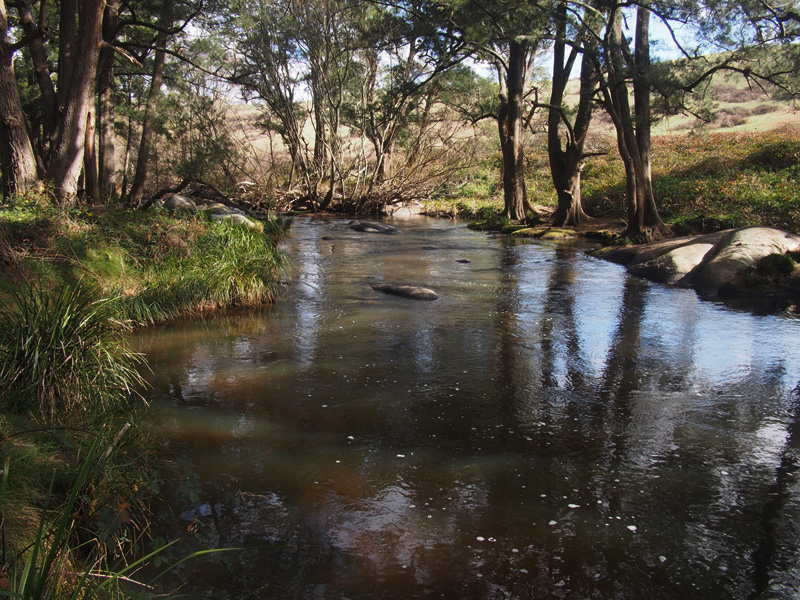 Have I mentioned the Fish is a pretty yet typical Oberon style river? Its main flow is through pastoral farmland thats been handed over via many generations of hands, due to this you're often trying to find alternate routes around barbed wire fences, dodging abusive farmers; and in the warmer months keeping one eye peeled for native wildlife. The above image typifies the River, reasonably narrow, sheoaks litter the skies; willows dilute the flow; while blackberries pollute the terrain surrounding the rivers edge.
Not sure how many times I cursed those blackberry vines over the course of the day. I'm not sure how I didn't lose any flies to the maze that encompasses them. Rory mentioned that it's interesting how you adapt your casting to the varying conditions, the Fish River is a place that tests your skills to adapt. It was pretty tight and overgrown and I found myself redefining my roll casts, too much line out of the rod tip and the D loop was too large becoming entangled in the blackberries, not enough line out and your flies dont get to the right spot causing an unforgivable hinging of the drift.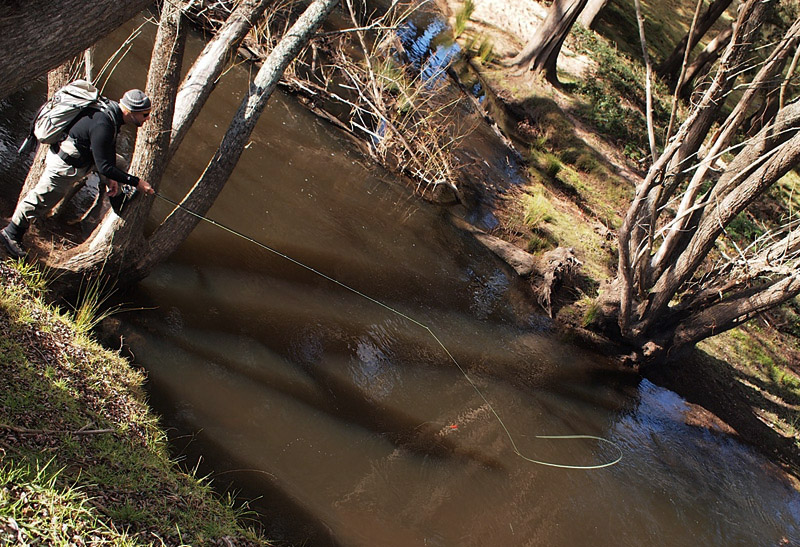 Thanks to Rory for the above action shot of moi amongst the leafless willows in a little tucked away gulley pulling off a neat roll cast; the water looked great and being in such a tight position meant roll casting a dual tungsten nymph rig with added lead and indicator wasn't the easiest of tasks.
Speaking of tough spots, the only fish I managed to bag was in another tight spot, at the tail of a run with only one place where I could position myself that would allow enough mend to provide a decent drift, I had to back cast between two narrowly spaced tree's. Not a large fish, more an average sized river fish:
Some things about the Fish don't change; tight spots and over grown vegetation, if you're able to pick a spot that is hard to fish it will most likely yield results.
As the day progressed on I could certainly feel my feet becoming weary and with about half an hour of walking (more like blackberry bashing) left before we'd even be able to sight the car I looked over to Rory. You just know when someone is thinking the same thought, he'd already taken apart the top section of his rod and I didn't need any coaxing to start on mine. And so ended another trip, for me a long awaited return to the Fish; not as spectacular as some previous adventures but none the less a rewarding one.