It's been a long time since the last time
Posted: 14-07-2013, 21:20 by Dave
In the period between 16/6 and today; it's been cold, the weather's been bad, my bed has been warm, the Tour de France has resulted in late nights and I've been lazy! They are the main excuses as to why I haven't ridden, I may be persuaded to find a few more, but that would make me seem rather soft.
My Scott Foil has been off-line since I had an incident where I may have overtightened the stem while trying out a few different stems. I always use a torque wrench but the bolt snapped while tightening, being a carbon fibre steerer tube I just don't want to risk failure by riding around. I have issue with the Ritchey C260 torx bolts, but that's a story for another day, here's todays caper:
I've tried over and over, this is why I find it hard to purchase from my LBS.
Due to the above torque incident, I need a new fork for the Foil. The other week I head to my LBS (Local Bike Shop) where I purchased my mountain bike, I have issue with the guy who runs the store; he's arrogant - you know, real nice to you till he gets the sale and then you're part of the dust bin, literally done and dusted! But he's the local Scott bike dealer and all I really want is to support the local guys. Anyway, I understand that you buy stuff online its going to be cheaper than going into a store, my golden rule is a maximum of $50 leniency to the online price, anything over and you've lost me. I get a quote for the new fork and its $80 more than the online price (considering the weak Aussie dollar this is another joke) (and he's going to charge me to fit) - I'm willing to bite the bullet and buy from my LBS but they can't give me an ETA, could be 6-8 weeks but unsure as the distributer needs to get it from the States and if you want to pay for special order you can get an ETA <--- thats the response! Seriously, this attitude kills small business, period!
So I order the fork on the evening of 4th July (the same day as I got the quote from the LBS) from the UK and it should arrive at my door this coming week.
Back to the subject; being such a beautiful day I decided to take the mountain bike out on the cycleway, riding with nobby tyres on road is tough and I'm hurting for it.
Keeping the cadence consistent was difficult due to the tyres, today merely rolling was a tough ask and I felt much out of place on the cycleway with the MTB. My diet has gone out the window during my lapsed period so this is most definitely one of the reasons achieving the consistent cadence was difficult. I really need to start wearing the heart monitor and get serious about fitness again. The end result was a modest 40km: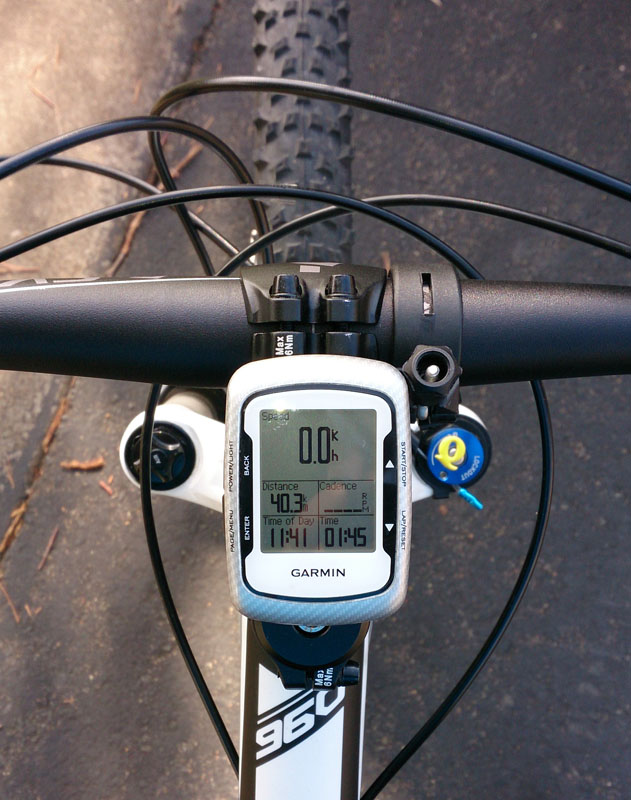 My body feels as though this is the first ride I've ever done, my thighs are quite sore and I feel like I've done many more k's than have been done. I have a Strava goal of riding 3,000km this year, I'm currently only at 1,350 so its still a long way to go.
But wait, there's more...
It's been a while since I have spent time alone at the park casting, last Friday morning I thought I'd take my all time favourite fishing rod out for a cast; the Scott G2 8'8" 5wt.
This rod by all means is not known for its distance casting ability, it is a great 5wt fishing rod that has great touch and works extremely well with light tippets. With this in mind, what is the first thing I do?
You guessed it, while not my greatest distance affair I'm happy with the modest 105' regularly achieved. Between 10 and 60 foot is where this rod really excels, funnily enough these are the distances usually fished at, and for mine its hard to find a better fishing rod than the G2 to fish my favourite streams, the Turon and Fish. I spent a little over an hour re- associating myself with the G2 (I've been using a 5wt Sage One for quite some time now) and my time alone with this rod is always cherished (no pun intended). Having had a bit of time away from the park I found I'm not as smooth as I used to be, a few more sessions and I'll be back to my normal casting self - now to just make that time!